Kitchen Cleaning: the Essential Materials
29 November 2013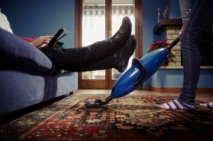 Due to their high usage our kitchens are more-often-than-not the most dirty room in our house, whether we like it or not. They come into contact with raw food stuffs and the majority of our household waste not-to-mention the fact that they are often a point-of-entry for a home, making dirty feet and muddy paws frequent visitors.
As a result of this we are often locked in a constant battle in order to maintain a desired level of cleanliness. But this can be made a whole lot easier if you are armed with the right tools for the job at hand, and keeping your kitchen clean can be made considerably less strenuous with the right blend of products:
White Wine Vinegar
Wonderful to cook with, white wine vinegar is also fantastic for clearing up as it is adept at tackling grease, deodorising and even acting as a mil disinfectant thanks to its acidic content. A couple of hundred millilitres in a bucketful of warm water will produce fantastic results on your windows, while it is also great for descaling and as a stain remover. Mix half-and-half with warm water for a great multi-surface cleaner. It is natural, cheap and a must for any kitchen.
Tea Tree Oil
Better known as a natural antiseptic, tea tree oil is adept at clearing mould and mildew from silicone and other areas where it may form in the kitchen. Between the sink and wall is a prime spot, as water tends to linger after the dishes have been cleaned providing an ideal environment for growth. Just soak it in diluted tea tree oil for a while and rinse with soapy warm water and your problem will be gone.
Rubber Gloves
It may sound obvious, but you need to protect your skin from some of the harmful chemicals you will use on certain parts of your kitchen. Whether you are using vinegar or bleach, a good pair of gloves will ensure your hands stay in good shape.
Microfiber cloths
Robust, non-abrasive and often machine washable, they can be used wet or dry and are fantastic at sucking up grease and dirt from your kitchen surfaces.
Dustpan and brush
Keeping your kitchen clean is a continual task, and you will find at the end of the day your floor is littered with debris and loose items. A quick whip round with a dustpan and brush will save you having to get the vacuum cleaner out every day, but just remember that a brush is no substitute for a wet mop.
Good quality kitchen roll
Spills are commonplace in a kitchen, and when they do occur a couple of pieces of kitchen roll will get rid of the majority of anything liquid-based in no time at all. They are ultra-absorbent, but it is worth opting for the best because they will be much easier to handle when wet.
Multi-purpose disinfectant
You could use white wine vinegar as discussed, but if you prefer off-the-shelf products then a multi-purpose disinfectant cleaner is essential to maintaining order in your kitchen. You can use it on all surfaces, implements and appliances making it the quickest and easiest way to clean in a hurry.
Sponge mop
Your kitchen floor's best friend, make sure you find time to mop your kitchen floor with warm, soapy disinfectant. Having a mop will mean you don't have to resort to cleaning the floor on your hands and knees, and will allow you to get in and underneath certain appliances. Dirt and grime builds up incredibly quickly on our kitchen floors, so make sure you run a mop over yours as often as time allows.
You may also like